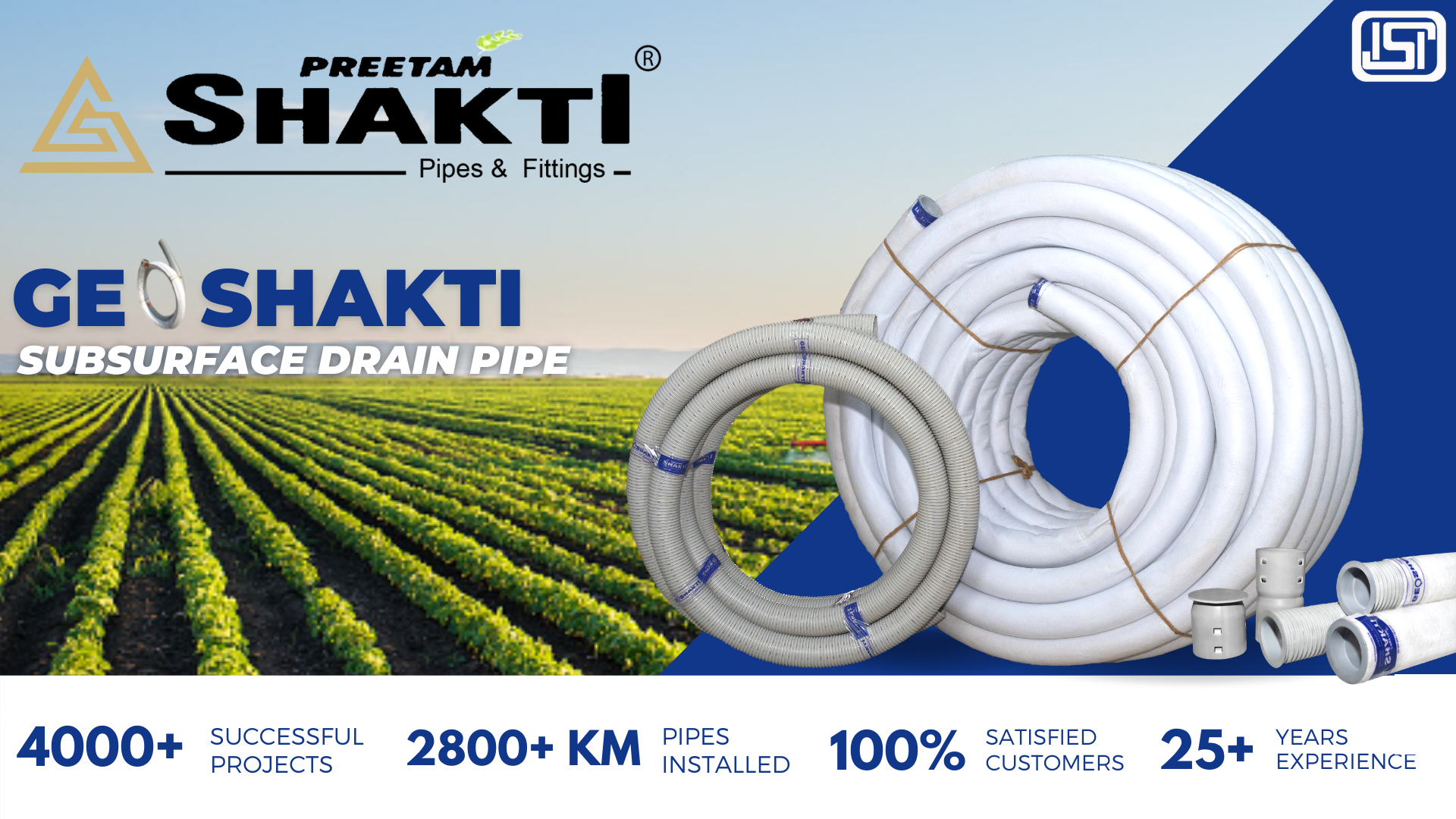 GEOSHAKTI, We are the largest manufacturer of SWC pipes with synthetic filters in India. The concept of the Sub-Surface Drainage System was introduced to the world in mid of 20th Century, The technique was originally called tile drainage because tile cylinders were laid end to end in a trench. SSD systems were invented long back for the improvement of crop growth and to keep farmlands healthy for farmers. SSD systems have shown a substantial percentage of growth in crop yields. GEOSHAKTI Subsurface Drainage Pipe is used underground. It is made from UPVC Raw material, With the help of the collector pipes of the incoming water drainage channels, streams, or rivers for transporting to such places as perforated PVC drain pipes are used. Corrosion and shock-resistant PVC perforated pipes are smooth, uniform and homogeneous with the inner surface bacteria produced. SSD pipe is manufactured strictly in accordance with IS 9271:2004
• SSD pipe is produced with perforations which allow subsurface water to be collected and transplanted to favorable location for discharge. The main use is in agriculture field for removal of saline or salty water from the soil.
•The SSD pipe is used to collect leachate under landfill sites.
• SSD is also used to control and direct ground water transport and to encourage proper surface water percolation in golf courses, athletic fields, hills side development, and project.
• The pipes are used in Residential, industrial and commercial buildings that have demand for roof, leader and land scape facilities.
• Pipes has become the product of choice for ventilation systems. Pipe placed in the bottom of grain storage bins introduce air via blowers to elaborate moisture from the grains pipe.
• It is used to collect air from the discharge of an air, scrubber for disbursement under a filter media to remove contaminant particles.
• The unperforated SSD Pipe also be used for any type of ducting purpose.
• GEOSHAKTI SSD Pipe has excellent flexibility
• It resist distortion and bending
• It has excellent performance used with acid, lubricated oil, carrying fluids etc.
• SSD pipes has structurally strong and has the ability to support large loads.
• SSD pipes has ability to relax under stress as the pipe is loaded it relaxes immediately and overtime allow the load to be transferred to the adjacent soil.
• The pipes is relatively light weight allowing for easier and less costly and installation cost.
• It is not brittle and therefore not susceptible to cracking during pipe handling and installation activity.
• The pipe is excellent resistant to abrasion, corrosion and chemical scouring.

TECHNICAL DETAILS AS PER BIS IS 9271:2004

• Size of perforations and water Inlet Area-
| SR.NO. | Nominal Outside Diameter ,da mm | Water Inlet Area cm2/m | Perforation Size Width mm | Perforation Size length mm |
| --- | --- | --- | --- | --- |
| I. | 80 | ≥18 | ≤2 | ≤15 |
| II. | 100 | ≥21 | ≤2 | ≤15 |
| III. | Above 100 | ≥21 | ≤3 | ≤32 |


• Measurements of dimensions-