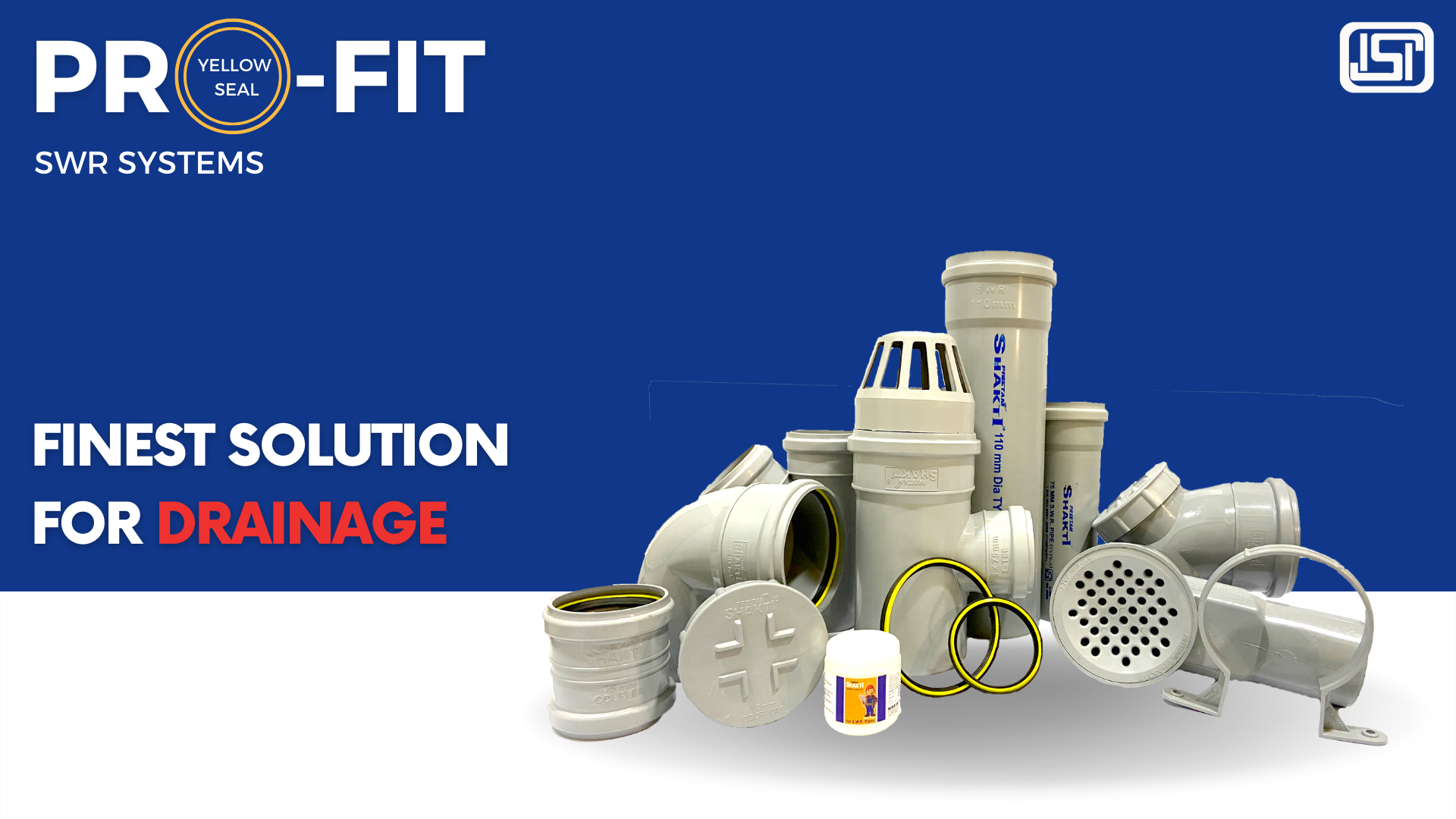 Shakti SWR systems include an extensive range of Soil, Waste, and Rainwater plumbing products for commercial, industrial, housing, and public sector developments. Our industry-leading solutions for soil and waste discharge are built on the back of quality, flexibility, and product innovation backed by unrivalled installation options and the highest levels of customer service.
Tough, Reliable, Leak-proof Joints
The Yellow Seal technology is advanced co-moulding technology at par with international standards. The Yellow Seal is a plastic reinforced rubber ring that sits in the groove of the socket and is permanently positioned ensuring a 100% leakproof joint, unlike conventional rubber rings, which have a tendency to come out during fitment.

SWR AS PER ISI PIPE
Size
40MM
50MM
63MM
75MM
110MM
160MM

SWR ISI PIPE TYPE "A"

SWR ISI PIPE TYPE "A" HD
• Stronger, resilient & light weight.
• Corrosion resistant.
• Non conductive.
• Flammability
• Chemical resistant.
• Quick and easy installation.
• SWR systems are suitable for soil, waste and rain water disposal.
• Drainage system for homes, offices, hotels, residential & commercial complexes & hospitals.
• Industrial, chemical plants and power plants drains as chemical waste lines & overflow lines.
• Water recharging system.

Dimensions of SWR Pipes
Nominal Size
Nominal OD in Mm
Wall Thickness In Mm
Inch
Mm
Min
Max
Type 'A'
Min
Max
1 1/4
40
40.0
40.3
1.8
2.2
1 ½
50
50.0
50.3
1.8
2.2
2
63
63.0
63.3
1.8
2.2
2 ½
75
75.0
75.3
1.8
2.2
4
110
110.0
110.3
2.2
2.7
6
160
160.0
160.3
3.2
3.8